The 2013-2014 governing Board hired me to become RVUUF's Developmental Minister for four years. This ministry is fairly new to Unitarian Universalism and basically means that I am not called by the congregation and instead hired by the Board with a renewable contract each year.  The congregation in the spring of 2014 created five goals to address during my four years of service. Additional ministerial roles I fill include creating Sunday morning services, pastoral care and counseling, officiating at life passages, supervising staff, and supporting the programs offered in Religious Exploration and Social Justice & Action.
To get a sense of who I am, you are invited to read about the theological context of my call to Unitarian Universalist Ministry that began in 1999 as I refer to one theologian, one personal experience, and one sacred text.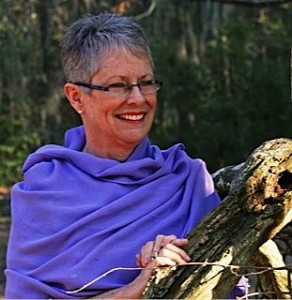 The "Golden Rule" across the world's religions, specifically within Christianity, is where I began to develop my theology as a young adult. When I began college I remember my mother sending me a bumper sticker with the Golden Rule printed on it: "Do unto others as you would have them do unto you". I was puzzled by those words of wisdom coming from my mother because my experience of her was very different and yet I was touched by her sending me a "religious" piece of advice for the beginning of my college years.  I find myself still heeding the advice she gave me through the words of the Golden Rule. Developing my theology has been an ongoing process through various experiences religiously.
As a Presbyterian I believed in the doctrine of the Trinity, and as a Baptist, for a very short time, salvation through Jesus Christ became my focus. Presently my beliefs are removed from Protestant Christianity.  However, I do bring with me a continued belief in a transcendent power greater than anyone can describe or name. I see God not as something way out there but as something one can experience in and through relationships in life. Through a process of relationships promoting growth and change towards respectful behavior and on behalf of other human beings, as described in the Golden Rule, is what informs my beliefs today.
My life has had a wonderful opportunity to "learn as I go." My decision to go through a process of transferring my ordination from the Presbyterian Church (USA) to the Unitarian Universalist Association has paralleled my serving as minister with two UU congregations. My first sermons were on the seven purposes and principles because I felt this would be the best way for me to learn about Unitarian Universalist theology. Added to that is the day-to-day experiences of practice in ministry in the context of Unitarian Universalism. Over time my identity has been reinforced and shaped as a Unitarian Universalists. I have seen myself grow and change theologically because I've placed myself in a framework where I feel free to question and wonder, while at the same time be who I am in search of my own truth and meaning.
Before serving a UU congregation as a Consultant Minister, a newly forming UU Fellowship  asked if I would be willing to serve them as their Consultant Minister on a part time basis to help them get organized. Agreeing, I became even more steeped in Unitarian Universalism. The benefit for me, while serving these two congregations simultaneously, continued confirmation of my commitment to Unitarian Universalist ministry as my calling.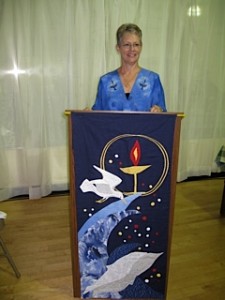 The very first principle Unitarian Universalists affirm and promote solidifies my calling to Unitarian Universalism.  That is, every human being has inherent worth and dignity. This is the very issue that drove me away from Presbyterianism and towards Unitarian Universalism. Foundational and fundamental for me as a minister, has been the freedom to be who I am with a sense of integrity and honesty. My sexual identity as a lesbian has been embraced by UU's and therefore, I am better able to minister with an authenticity that I believe is worthy and respectful. This acceptance is at the heart of what I understand to be the Golden Rule.  I want to treat other people the same way I want to be treated and I think Unitarian Universalism embodies this theological understanding of humanity. I see humanity, as "original blessing", which is far from the  teachings on "original sin" I learned from the Presbyterians and Baptists in my early spiritual formation.
In light of how I understand humanity's goodness, I also understand the suffering one can experience in this world where there are oppressions and conflicts confronted in our every day lives. Treating others the way you want to be treated is our greatest human challenge.  Helpful to my own understanding of human suffering is in Rebecca Parker and Rita Nakashima Brock's book, Proverbs of Ashes.  Parker articulates best for me how to understand what she calls "redemptive suffering" in a new and refreshing way.  Parker writes in her book:  "the theology taught in Christianity's ideas of Jesus is a theology that has made people acquiesce in their own suffering, a legacy of abuse entrenched in doctrine." Parker has enlightened my understanding and confirms for me how historically I think people, especially women and minorities, have not been able to trust their capacity to love, themselves and/or others.   The more I have read of Parker's book, the more I feel as though she and I have come from a similar place.  A place where over time and through various relationships I have learned to love myself enough to be able to draw from that strength with a transcendence beyond myself allowing me to become open and present – physically, spiritually, emotionally and intellectually. I have found that when I am open and present I am more willing and able to acknowledge and value my vulnerability. It is then that I can be respectful of someone else. I think this is what Jesus was talking about when he said "love your neighbor as yourself" which is another version of the Golden Rule.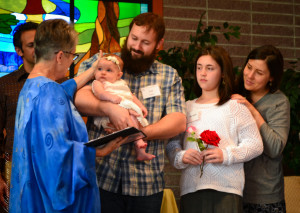 As a Unitarian Universalist minister I believe I am called to keep fresh and alive, in the minds and hearts of individuals and, equally as important in the gathered community, the tension between how we experience ourselves in relationships and how that reflects or manifests the way we treat others.  The challenge is great, in that while I too, must keep myself in check with the same issues which my parishioners struggle, I must also become a prophetic voice in the community at large to get out the "good UU news" to all people who are in search of some kind of salvation. Whether it be from hate, poverty, oppression, terrorism or war, those who are suffering because of how someone else is treating them I believe they need to hear and experience it doesn't have to be that way, it can be different, there is another way, there is a place of refuge.
Within a conservative theological landscape, respect for the inherent worth and dignity of every human being and the freedom to love ourselves and others, is a message the liberal church longs to tell.  I am convinced there are more people who are searching for someone to tell them.  As a Unitarian Universalist minister I am humbled and honored to be a part of the journey that continues leading us to a greater freedom for everyone.
Theologian Karen Armstrong challenged UU's to sign the Charter for Compassion at General Assembly in Charlotte in 2011. It is a challenge I have taken to heart. Not only have I signed the charter, based on the Golden Rule, I led a delegation of UU's to the mayors office in Beaufort, South Carolina requesting a diverse team of people to work together to help that city become a Compassionate City.  Presently serving in Ashland, Oregon my living a life of compassion continues with challenges as I witness the homeless and economic refugees throughout the Rogue Valley.
In December of 2013 my mother died at 94 years of age allowing me the time to appreciate and understand her gift of love by sending me the Golden Rule to begin my adult learning. I believe doing so was prophetic for me and my life. I am deeply grateful.
Rev. Nan L. White
RVUUF Developmental Minister