When our community comes together on Sunday morning we spend time lifting up our principles and values interweaved with music, story, an meditation or prayer.
Rev. Nan L. White speaks from the pulpit three Sundays every month. During the year she'll offer special ceremonies to welcome new members or welcome new babies and families. Once a month a member or guest will speak on a topic that connects to our seven Principles.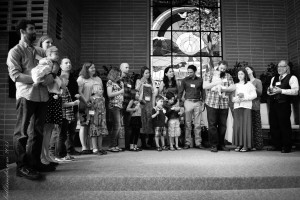 There is a Time for All Ages segment when a story is told and afterward the children go to their Religious Explorations classes. During the summer, children go directly to their classrooms. A nursery is provided for babies and toddlers. Youth in grades six and older go to Emerson House, which is next door to the Great Hall (sanctuary).
Our music director, choir and pianist offer music in varied styles to reach all ages of the congregation. Talented members sometimes offer their musical skill during a service.