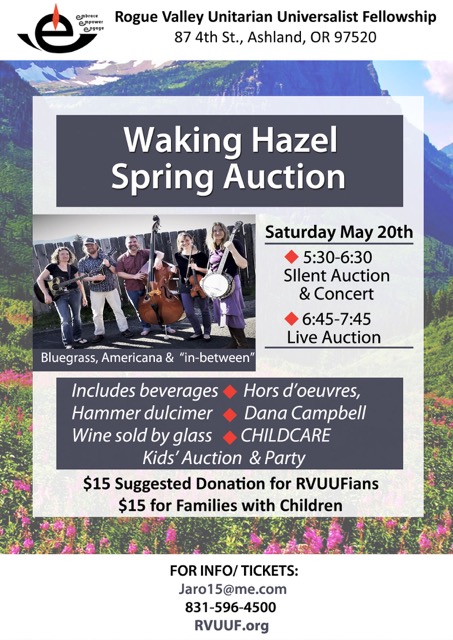 "Spring into Auction" is set for Saturday, May 20, from 5:30 to 8:30 p.m., with "Food, wine and fun for all ages" planned.
There will be a special children's table, so they can bid on items too (and childcare will be available for parents). The event will kick off with the bluegrass band Waking Hazel performing.
There is a $15 suggested donation for members and supporters of RVUUF, and tickets for friends and family are free. Scholarships are available and childcare will be provided.
Advanced-tickets advised (recommended). To purchase tickets, or for more information, use RVUUF's contact form to connect with Jackie Rosen.
Schedule of Events:
5:15 p.m.: Doors open. Kenny Anderson plays hammer dulcimer in the main hall.
5:30 p.m.: Silent Auction. Waking Hazel Bluegrass/Americana band
6:30 p.m.: Pianist Ian McCarty, slide show, door prizes
6:45 p.m.: Live Auction
7:45 p.m.: Check out
Auction item list (as of May 7, 2017):
Plan with others, proxy/absentee bid!
Restaurants, services, adventures, outings, timeshares, tickets, gourmet dinners, wine/beer tastings, lunches, brunches, art, lessons, consulting and more. Make new friends, support cherished values and goals, and have fun.
Growler Guys Growler & Refill
Greenleaf Family- & Vegetarian-Friendly Restaurant
Hearsay Restaurant
Bella Union in Historic Jacksonville
Umi Sushi – in Jacksonville
Wild Goose Restaurant
Peerless Restaurant
Dobra Tea House + stickers & buttons, "amazing experience"
Roadhouse Grill
Taco Now
Sailing Adventure + Gourmet Lunch
Condo Timeshare Anywhere – 1 week, sleeps 8 Plan now – bid with friends or family!
Zipline Adventure for 2 – a great gift for grandkids….
Kayaking + coffee at Hyatt Lake
Ashland Guest Cottage, sleeps 4, a charming retreat, plan for the holidays!
Eagle Crest Resort 3-Night Weekend, Oct 27-30, 2017 – Plan now with friends/family!
Rogue Healing Hands- Session to Release Blockages – (recommended) Kellyna
REVIVE – Upscale Gift, Home Décor & Furn. Shop, Ashland
Travel Essentials on Main St. Ashland
Ashland Greenhouses plus a hanging basket!
Mt. Ashland Gourmet SUPPER PICNIC with WINE + Transport from Ashland
Bookwagon for any used book
The Book Tree Children's bookstore (nationally acclaimed) – gift certificate
Therapeutic Massages (2) at Light Touch Chiropractic (Carola's recommendation)
Chiropractic Exam & Treatment, Dr. Robert Medeck, Light Touch Chiropractic
REVIVE upscale Gift, home décor & furn. Shop, Ashland
Birthday or Celebration Event by JenuWin the Unicorn & More!
Shop'n Kart Gift Certificate – $100 – get for yourself, or bid with a group!
Case of Rock Point Pinot Noir WINE – bid with a group!
Ashland Animal Hospital – recommended vet! Exam & Treatment
"Sparkling" Italian DINNER Celebrating of All that is Good in Life – Waitts'
Pet Sitting in Your Home
Pet Sitting My Home
Front-Row Seats (10) to Ashland's Famous 4th of July Parade, plus amenities, shade!
Ashland Coop Market – $25 gift certificate
Oregon Cabaret Theatre, bistro seating w dessert & beverage
Electric Bike Rental + instruction – Ashland Electric Bikes
Omar's – Lunch + Dessert for $8!
Wildlife Safari in Winston Oregon 2 Entrance TICKETS (from Donor 1)
Wildlife Safari in Winston Oregon 2 Entrance TICKETS (from Donor 2)
Airport Transportation by Jackie
Let's Go WINE Tasting! (+ snacks) – 4 separate dates TBA, transportation provided!
Ashland Cabaret Theater – 2 Tickets
Chamber Music Concerts – 2 Tickets (2018) Top Notch International Artists
Britt Music Festival Orchestra, 2 Tickets
Oregon Shakespeare Festival (OSF) – 2 tickets
Varsity Movie Theater – 2 tickets (wonderful independent films)
OREGON ZOO ("Portland Zoo") – 4 Tickets
TIMESHARE in beautiful Dana Point, Calif. June 16-23, 2017 only, plan now with friends/family!
Foot MASSAGE + Reflexology + herb foot bath, 50 minutes
A Fantastic Russian DINNER Like Babushka Never Made
A Memorable French Provincial DINNER by Daniel Guy
A Relaxing Summer BRUNCH with Strawberry Souffle
Window Washing – 4 Hours; bonded, licensed, insured, 2 stories OK
Handyman – 2 hours
Yard Work by Lynn Evans – 2 hours, recommended
Alterations by Patty – Hems only
Asian Fusion LUNCH with 2 OSF Actors (Joanie Kintscher, Annette Lewis)
Bear Creek Bicycle Ride, any level, with Coffee and a Treat!
Birding with Kate + LUNCH at Greensprings
Wildflower Hike + Lunch
Cabaret Theater Tour (up to 4), Coffee & Snacks with Galloway Stevens
Case of Fabulous Mendocino WINE (bid with others?)
Rogue Healing Hands- Session to Release Blockages – (recommended) Kellyna
Guided Hiking Tour Ashland Watershed Trails (Alice in Wonderland, etc.)+ Lunch!
Chicken Barbecue DINNER with all the trimmings, old-fashioned, backyard fun!
Computer Training or Services by Bolan – use eBay, Facebook, Twitter Congress!
Computer Training or Services on or off site by Conrad Gardner
Craft Beer Tasting with Tapas DINNER
Cuisines of Central and So. Americas Dinner, wines, beer, Peruvian cook, too!
Delicious "Tunisian" DINNER with Great Beers and WINEs
Don Dolan's Special FRENCH TOAST BREAKFAST & Peru Trip Showing
Enhancing Your Health: Experience Dr. Wahls' protocol
Healing Hands Session with Kellyna – Emotional/Physical Release & Relief!
Rolfing Session with Rogue Valley Rolfing for Structural Integration
Full Bicycle Tune-Up by a Pro
Get your Trash Analyzed by an Rissa Buck & Recycle opportunities. Save $$ too.
ArtEFex Fine Jewelers in Ashland "like an art gallery; watch batteries, too!"
Ashland Artists Emporium – $50 gift certificate, something for everyone!
Waterstone Spa – Haircut or $50 gift certificate
Health Improvement Super DEAL
Incoming Voice Message on Your Phone by Rev. Nan
Indestructible book for young children
Handwoven Placemats by Priscilla, Blue and beautiful, fabric from RVUUF drapes
Jewelry-Making Party for Adults & Children, Snacks
Fabri Gift Bag – Set of 3 sizes! Reusable and beautiful, by Colleen Chambers
Fabric Gift Bags for bottles of wine, beautiful, reusable. Great gifts.
Fall Fiesta Brunch – Daniel Guy & Vicki Villarreal
Kenyan DINNER Extraordinaire + Artifacts Exhibit
Jim's Famous Smoked Chicken DINNER
LUNCHEON in the Mandarin Court
30 Hours of Enlightening Sermons by Dr. Michael Dowd
Original Photo Art (elk browsing in the forest) by Kate McCleland Sipfle
Large pottery bowl by artist Greg Wooten
Learn to Sightread Music for Singers
LADYBUG stuffed animal by Ganz
Dinner for 4 at Mountain Meadows with the Cranes
Pineapples Restaurant (Hilo) – Fresh cuisine, Lunch or Dinner $50 certificate
Stainless Steel Kitchen Composter, Natural Home
Waterhog Doormat, LL Bean
Mountainsmith (REI) Day Hiking Pack
Photo Art by Ellen Gardner Hauck
3 pieces original photo art by Ellen Gardner & Jerry Hauck
Release the Old Year and Set Intentions for the New – Alison Duren-Sutherland
Yummy homemade CHOCOLATE CAKES (2), fresh whipped cream frosting
Russian Balalaika, beautiful, + Instruction book (Carola)
Set of 2 Chrismas Dolls in Beautiful Costumes
Staycation- 1 week in Beautiful Ashland Guest Cottage Getaway
Staycation in Beautiful Ashland Guest Cottage near Downtown
Stress-Busting SUPER Package – by Victoria Leo, SoaringDragon.biz
Zoobooks – Great Magazine for children
Original Art by Margot Howe (2)
Fanda Bender will play PIANO at your next event! Bach to Beatles & beyond ~
"Afterglow" Painting by Pat Parkinson
Tetsubin Teapot with Infuser, Chinese, by Unity, small
Soulcards set of 60 cards with Instructions by Deborah Koll